Fellow Toastmasters, the previous blog posts have all described how you can use Pathways and Base Camp to advance your own Toastmasters goals. Let's switch gears. How can you help your fellow club members to achieve their goals?
Serve as a speech evaluator during your club meetings. While you learn the useful skill of really listening and to give constructive feedback, the feedback you provide is invaluable to the speaker on their Toastmasters journey. I already described on May 2, 2021 how to access every possible evaluation form in Base Camp.
Share feedback on a speech (or anything really) with a fellow club member. You can also award a badge. Currently the following badges are available: To share feedback or award a badge click "My Feedback" on your Base Camp landing page. It sounds counterintuitive, but you have to access your own feedback to give feedback (I did not try to give myself positive feedback for giving feedback to someone else, it seems wrong.) Search for a member of your club by name in the search box at the top of the page. Select their name to visit their Base Camp profile. This is the same information as you can see (for yourself) under "My Account", that's the gear icon I wrote about in my last blog. It is not your Toastmasters profile which contains your member number, your education awards, club history etc. Don't worry, Toastmasters International did not create an easy loophole to access your private information, but you can snoop a bit and can learn when someone filled a meeting role. If you are not in their Base Camp profile to snoop but want to give feedback, chose their "Feedback" tab and start typing your kudos or constructive feedback or both.
Last but not least and more general: Keeping your Toastmasters Promise!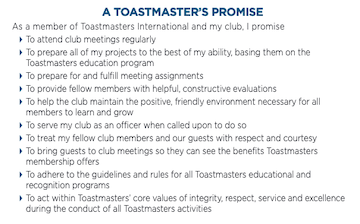 Good luck and enjoy your Pathways journey!
Your friendly neighborhood DTM.
---
Blog posts in this series