Welcome, fellow Toastmasters! This is Part 3 of my series of blog posts in which I try to demystify Pathways, Toastmasters International's new education program. Today's post deals with Base Camp. Base Camp, "your Pathways home base"- as Toastmasters International calls, or simply the digital platform on which you can access your Pathways projects. I already talked briefly about how to access Base Camp in the second part of this series. This is a screenshot of the Base Camp website: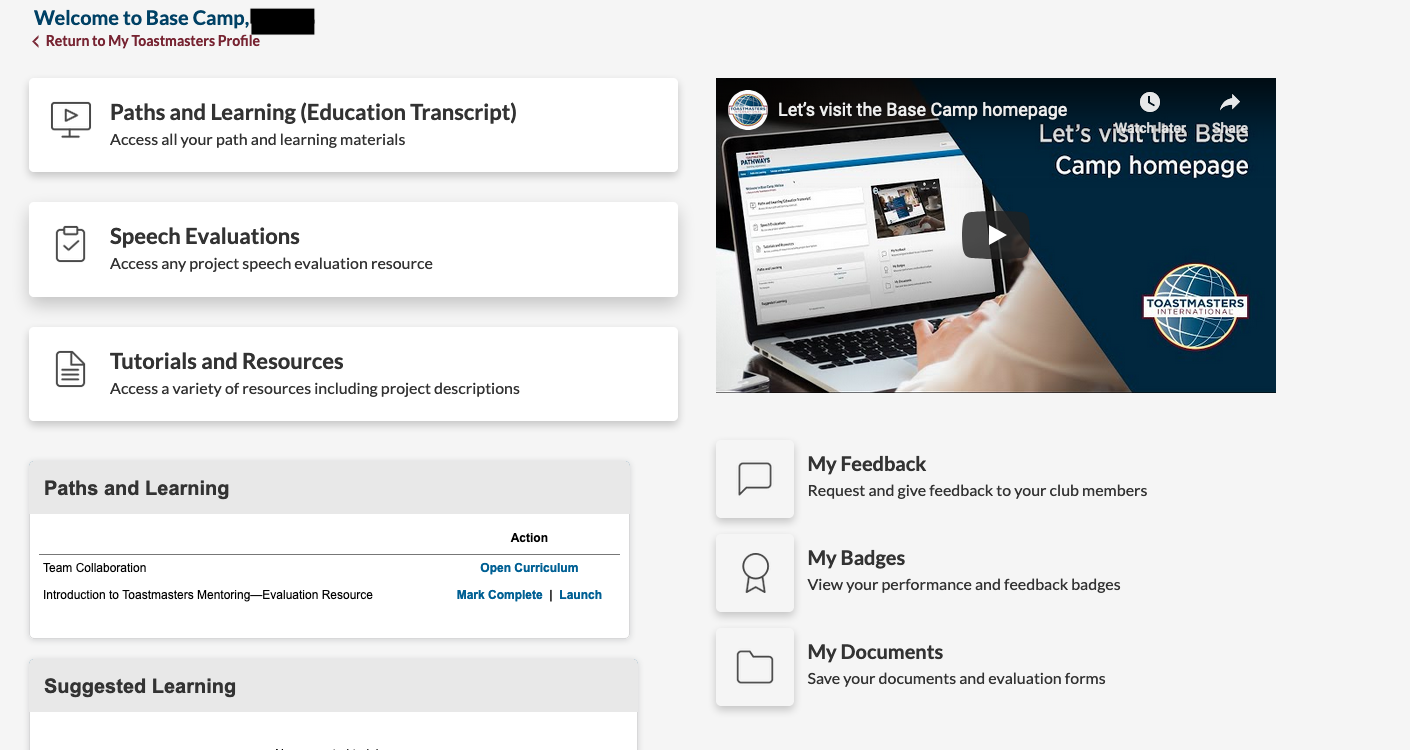 Let's talk about what is on this page: almost everything you need.
The embedded video is probably the first thing that catches your eye. It describes the content of this page and how to navigate to different parts of Pathways and back to the Toastmasters International website (spoiler alert: click on "Return to My Toastmasters Profile"). Beware, if in the future this Base Camp page looks different, check out the video it will change periodically, "featuring things like Base Camp updates, tutorials and more".
You have two option to access your path and the different projects within. You can either click on the big white button on the top ("Paths and Learning (Education Transcript") or directly on "Open Curriculum" in the box seen towards the bottom of the screenshot. Here is where clicking on either link eventually takes you: to your education transcript. Navigating back to the Base Camp website is done by clicking on "Home" in the blue bar on top of the page. Alternatively, from here you can click on launch and the project opens on a new website for you to get started learning, practicing and having fun.
The link to "Speech Evaluations" does not lead to evaluations you received for your speeches, but is a resource to find the fillable pdf for any speech evaluation you might be asked to do. This is the place to go if it's 10 min before the start of your Toastmasters meeting and the speaker still hasn't emailed you the evaluation form for their speech.
I personally find the "Tutorials and Resources" page (you get there by clicking on the third big white button) disorganized and not very useful. But check it out. Among other things it contains Toastmasters materials in different languages.
That's it for today. I will talk about "My Feedback", "My Badges" and "My Documents" in another blog post. In the meantime, my next blog post will be all about navigating the education transcript.
Good luck and enjoy your Pathways journey!
Your friendly neighborhood DTM.
---
Blog posts in this series