by John Cowherd, CC
---
It took me almost 10 years to join Toastmasters after my friend Nicholas Kosar first shared with me his Toastmasters experience in Richmond, Virginia. Recently I had the opportunity to ask Nick about his experiences again. Our discussions ranged from being Toastmaster of the Meeting to using Toastmasters training in other venues, including live presentations and social media. Nick is the Business Development Manager for an internationally-prominent law firm. Old Town Toastmasters Club's Executive Committee wants to see all of our members "Speak. Lead. Succeed" in their goals this year. Here are some great insights Nick has for Toastmasters.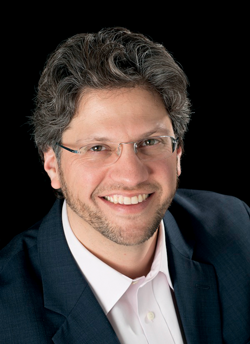 Nicholas Kosar
---
BEGINNINGS AT WEST END TOASTMASTERS
John:     Nick, you were the one who first told me about Toastmasters. You described for me your experience with a club in Richmond, Virginia. What were you looking for when you first joined Toastmasters?
Nick:     Like most others, I simply was seeking to get over that fear of public speaking. But more importantly, I felt that if I gave it a chance, not only could I learn to manage my fear, but I could actually become good at public speaking – something I always thought I could do, deep down inside. I had lost a job in the recession of 2001, and wanted to make productive use of my job-search time. I thought, "I have a window of opportunity to finally do this," and West End Toastmasters proved to be a wonderful club – positive, diverse, and welcoming.
John:     It sounds as though your local club supported you as a new member when you were in a professional transition. What educational awards have you earned in Toastmasters?
Nick:     My goal was to reach the 10-speech level "Competent Communicator." Thankfully, before moving out of town to start a new job, I was able to reach that goal.
---
SERVING AS TOASTMASTER OF THE MEETING
John:     I'm sure you experienced more than delivering manual speeches. What was your favorite role in Toastmasters meetings?
Nick:     Without a doubt, being Toastmaster was the most rewarding of all the roles I played – and I performed all of them at one time or another. Being Toastmaster is a capstone experience. The feeling of being able to run the meeting is empowering, gratifying, but most of all: wholesome. You feel like you are the main person imparting the wholesomeness of the Toastmaster experience to everyone in the room. Being Toastmaster is the one role that I still have a very clear memory of – the other roles bleed together in my memories, but not Toastmaster!
John:     Your experience is undoubtedly shared by others – we call ourselves "Toastmasters", not "Speakers International," "Evaluators," etc. What else is invigorating about being TMOM?
Nick:     Most people join Toastmasters with some trepidation, and with timidity. And of course it's a joy to see people improve step-by-step as they give speeches, act as judges, or speak during Table Topics. But by being Toastmaster you actually get to impart that joy and confidence to others – those who are newer, those who are attending for the first time, and even those veterans who remember your own first time at a meeting and can proudly look at their protégé serving as Toastmaster. Anyone who has performed all or even some of the other roles can handle being Toastmaster. I wanted to work my way up to it, but it certainly can be done even if you haven't served in all the roles. And the beauty of it is that you never stop learning. For example, to this day when I see someone in a "Toastmaster" role at a public speaking event who actually leaves the lectern before the next speaker arrives to take the microphone, I cringe a little. I think, "If they had only been a Toastmaster once, they would make sure that doesn't happen." If I hadn't served at least once as Toastmaster, I would not be able to hold myself as confidently as I can now when "on stage." There are some things that only being Toastmaster can teach you. So why pass up the opportunity?
John:     I remember after a few months of Toastmasters, I began to listen more actively. I noticed how some trial lawyers feel very comfortable speaking in court but often have unconsciously developed annoying habits.
---
APPLYING TOASTMASTERS TRAINING IN PUBLIC SPEAKING OPPORTUNITIES OUTSIDE THE CLUB
John:     Since the time when you completed your Competent Communicator Award, what public speaking experiences outside of toastmasters have been most memorable to you?
Nick:     I've had the pleasure of giving professional presentations at major conferences, acting as a panelist, and also delivering a webinar. Toastmasters not only made each of those easier, it also made me so much more effective and helped me to enjoy the experience, rather than fear it. It helped me the most in impromptu speaking ("Nick, please stand up and say a few words") and also with being able to both listen to others AND organize my thoughts during business meetings, simultaneously.
John:     How did your Toastmasters experience, especially as TMOM, prepare you for those speaking opportunities?
Nick:     The week-by-week experience helps you to manage the fear, manage the nerves, and focus on the presentation or topic at hand. However, the various speaking experiences – notably being Toastmaster – help you live in the moment. I find it invaluable, as I noted above, to be able to listen to others as they speak, but also to simultaneously organize my own thoughts for when I myself need to speak a few moments or minutes later. An invaluable skill, and one I didn't realize that I needed to work on when I first walked in to a Toastmaster meeting.
John:     Personally, I've found that role to be the best training for public speaking opportunities outside of the world of Toastmasters. What advice do you have for new Toastmasters looking to make the most of their first turn as TMOM?
Nick:     First, just volunteer to be Toastmaster before you can talk yourself out of it – at your club's next meeting. You will find that you will be prepared for this role and that it will go well. Second: once you take on the Toastmaster role, impart a positive, friendly, and cheery attitude to those who will be helping at your meeting, such as the Table Topics Master or Timer. You will see how easy it is to create good will and good vibes at your own meeting. It truly is empowering. And you will carry that skill and knowledge with you wherever you go. The other roles don't give you that experience or knowledge to as great an extent.
John:     Agreed – take the plunge when you have the inclination! The evaluation roles are great stepping stones from answering table topics to being TMOM. If a new member wants to ease themselves into deeper waters, being General Evaluator is a solid intermediate step.
---
TOASTMASTERS & SOCIAL MEDIA
John:     In the past few years, social media has emerged as a dominant venue for mass and interpersonal communications. As a marketing professional with a Toastmasters background, what connections do you see between the worlds of social media and public speaking?
Nick:     I think we learn in Toastmasters that if you're going to speak, you should "Say what you mean, mean what you say, and don't say it mean." In other words, we hold ourselves to the highest possible level of professionalism and interpersonal relations. That is a powerful skill. It is your reputation. There is a sea of communication out there on the internet and in social media circles, much of it negative or, at the very least, boring. I think that by applying the skills and communications standards of Toastmasters to your online discourse, you can set yourself apart and burnish your own relations and credentials. Maybe we should say, "Toastmasters: It's Not Just for Public Speaking Anymore!"
John:     Thanks for your insights, Nick! Please feel welcome to visit us anytime.
---