What is an Old Town Toastmasters buddy (mentor)?
An Old Town Toastmasters buddy takes a personal interest in and helps an another member, offering knowledge, insight, perspective or wisdom. At Old Town Toastmasters, we believe every member has something to offer when it comes to support. Hence we refer to mentors and mentees as a buddy team. Most new members are not familiar with the intricacies of a Toastmasters club. They don't know what a timer is or what an Ah-Counter does. Yet new members are expected to participate and give speeches – something many are terrified to do. Many clubs expect them to do all of this with a minimum of instruction and guidance; we don't!
New members need someone to explain the program to them and show them how to prepare for various meeting roles. They also need help preparing and rehearsing their first few speeches. Senior members benefit from a fresh perspective on their speech performances. An Old Town Toastmasters buddy can supply the valuable personal attention and ongoing support every members needs to achieve their personal Toastmasters goals.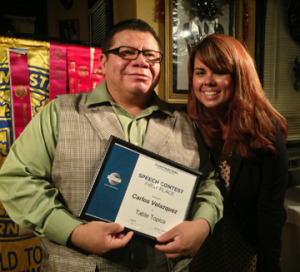 Benefits for all buddies:
Learn new information and perspectives from your buddy
Keep your knowledge and skills sharp
Receive recognition and appreciation by fellow members
Benefits of having a buddy (mentor) for new members:
Learn the program and club customs (CC and CL manuals, club meeting roles, membership opportunities)
Develop confidence and improve participation in club activities
Quickly learn speaking skills to advance faster
Benefits of having a buddy (mentor) for experienced members:
Refine and revitalize existing skills
Learn new skills
Feel good about helping someone
Benefits for clubs:
Improved member retention
More satisfied members
Contact our VP of Membership if you would like to sign up to be part of an Old Town Toastmasters buddy team. Everyone can participate and benefit from personal attention by a fellow Old Town Toastmasters member.