Fellow Toastmasters (and most welcome guests, if you are still reading my blog even though we are now in the weeds of how to progress along the Pathways program, which only members can access and participate in),
you may be surprised to already see another blog post online already, but today's topic is the most important one in my opinion. I did not want to keep you waiting. Part 4 in my series of blog posts in which I try to demystify Pathways, Toastmasters International's new education program, is all about how to navigate and complete your actual Pathways projects. Check out my last blog post for a refresher on how to get to your education transcript. This is an example of what an education transcript looks like when you open it for your new path for the first time: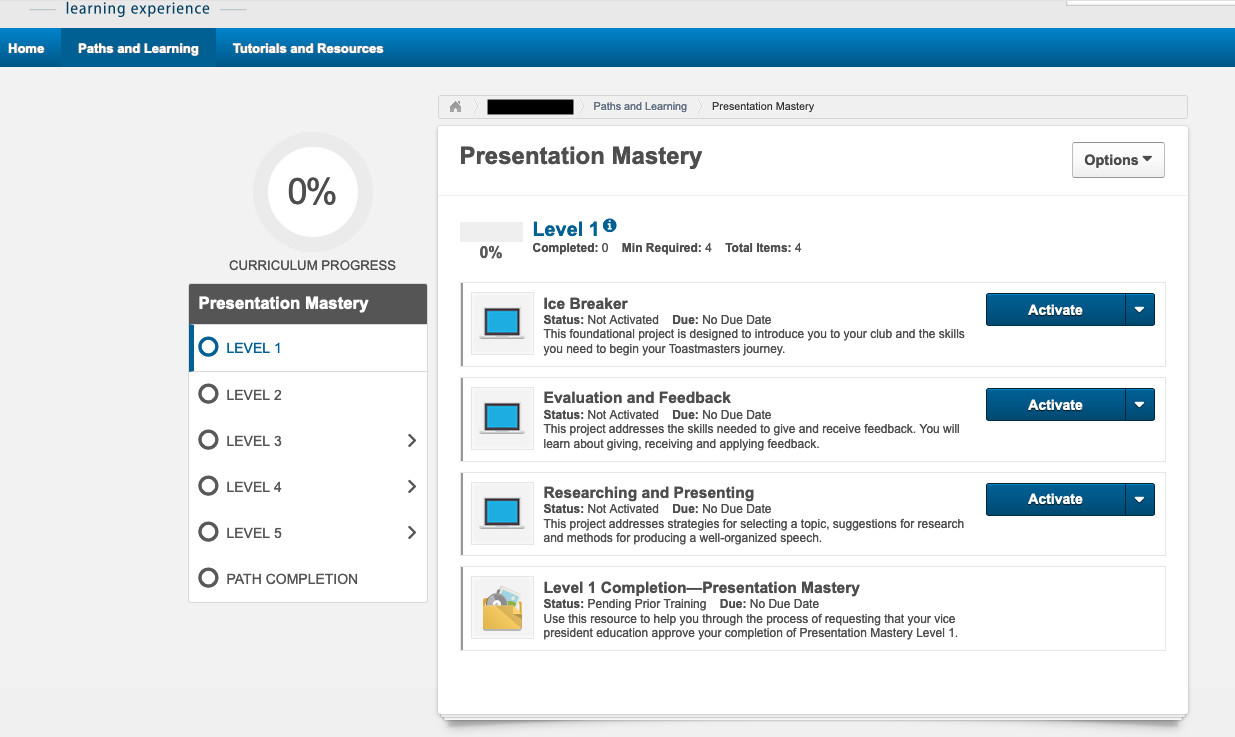 As a reminder, Levels 1 and 2 are the same for all paths (check out my blog post from April 26, 2021). If you are curious and want to see the kind of elective projects you can choose from in Levels 3-5, go ahead and click on the little arrows to access the electives. Any level you click on will display the projects within this level. Every path starts with an "Ice Breaker" project, followed by an "Evaluation and Feedback" project and last but not least a project titled "Researching and Presenting". Especially if you are just getting started on your Toastmasters and Pathways journey, you should do the projects in the order they appear in Levels 1 and 2.
Activate the "Icebreaker" project -> the blue button changes to "Launch" and another page opens which brings you to the start of the project. The only indication on this page as to which path you are working on is the little annotation in the lower left corner.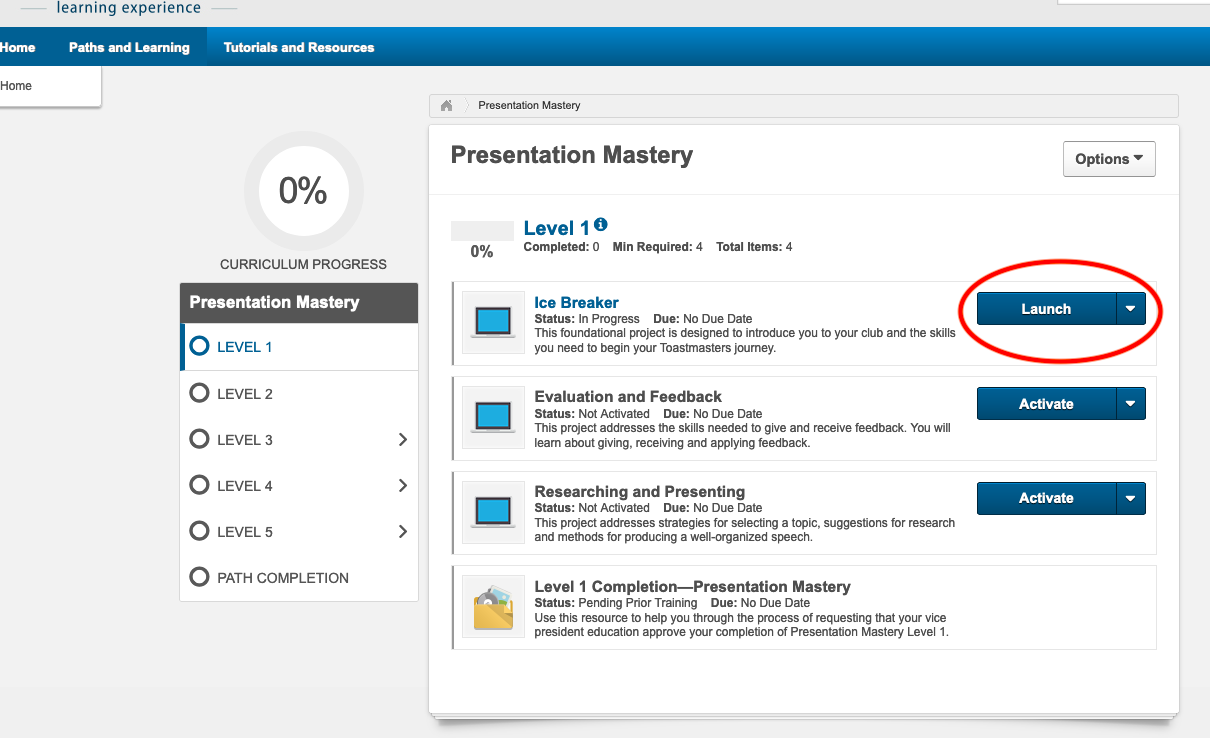 The education transcript page after you have "activated" the first project, the "Ice Breaker"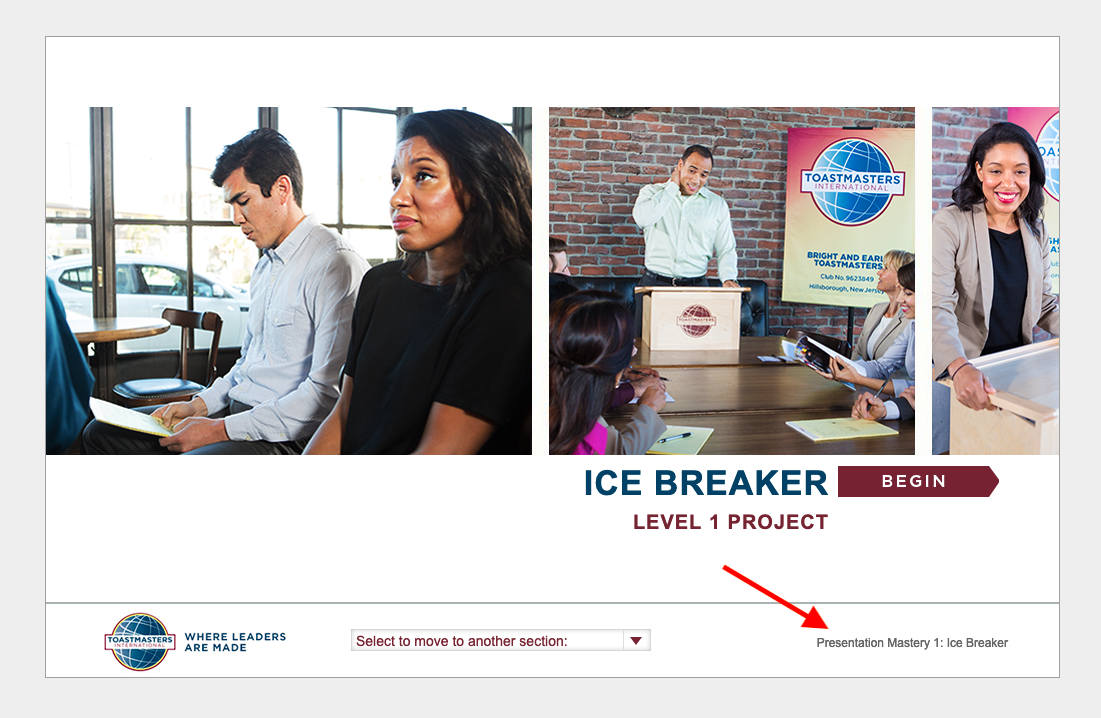 The first page of the "Ice Breaker" project in a new browser window
Work your way through the project by clicking on "Begin" and on subsequent pages on the gray arrows to the right and left of the content to go forward and backward, respectively. Beware, I have often encountered issues that these arrows don't appear and I "get stuck". Nothing works anymore. In my case just closing the website and relaunching the project didn't help, leaving Base Camp and coming back didn't work, logging out of my Toastmasters account and back in did nothing to change it. I had to reboot the laptop. As I mentioned early on, Pathways and I have a love-hate relationship. If something like this happens, I miss the time of paper manuals (o.k., you could misplace them and loose valuable time this way, but I digress). Let's assume everything works as it should.
I strongly recommend you download and save all pdfs that you come across when you work on your project. Very important is the checklist that comes with every project. This tells you exactly what you need to do to complete the project. Most often you will need to give a speech. To schedule a speech, please contact the Vice President of Education of your club or whoever assigns speaking slots in your club. Some clubs, like Old Town Toastmasters have a sign-up schedule for speeches. Depending on how many of your fellow Toastmasters members also want to give a speech, you might need to plan a month or more ahead. If you commit to give a speech, complete the tasks on the checklist, write your speech, practice it and maybe contact your mentor to get someone else's input before the club meeting. (We know life happens, but please try not to cancel your speeches at the last minute, or even worse, just not show up for a meeting where everyone was looking forward to hearing one of your speeches!)
Also, contact the club member who has been assigned to evaluate your speech. Especially as you progress in your Toastmasters journey, you might have specific aspects of public speaking that you want to practice. Tell your evaluator to particular attention to them and send him or her the pdf of the evaluation form for your speech or project (writing this blog is an example of a project where the main part is not giving a speech to the club). In preparation for your speech, as in the case of the "Ice Breaker" project, go through the entire online module for the project until you come to the "Assess Your Skills – After" questionnaire. This one you want to fill out after you have given your speech or completed whatever the project requires. Once this is done, congratulations you have competed a project. Now move on to the next one. Practice makes perfect!
Good luck and enjoy your Pathways journey!
Your friendly neighborhood DTM.
---
Previous blog posts in this series